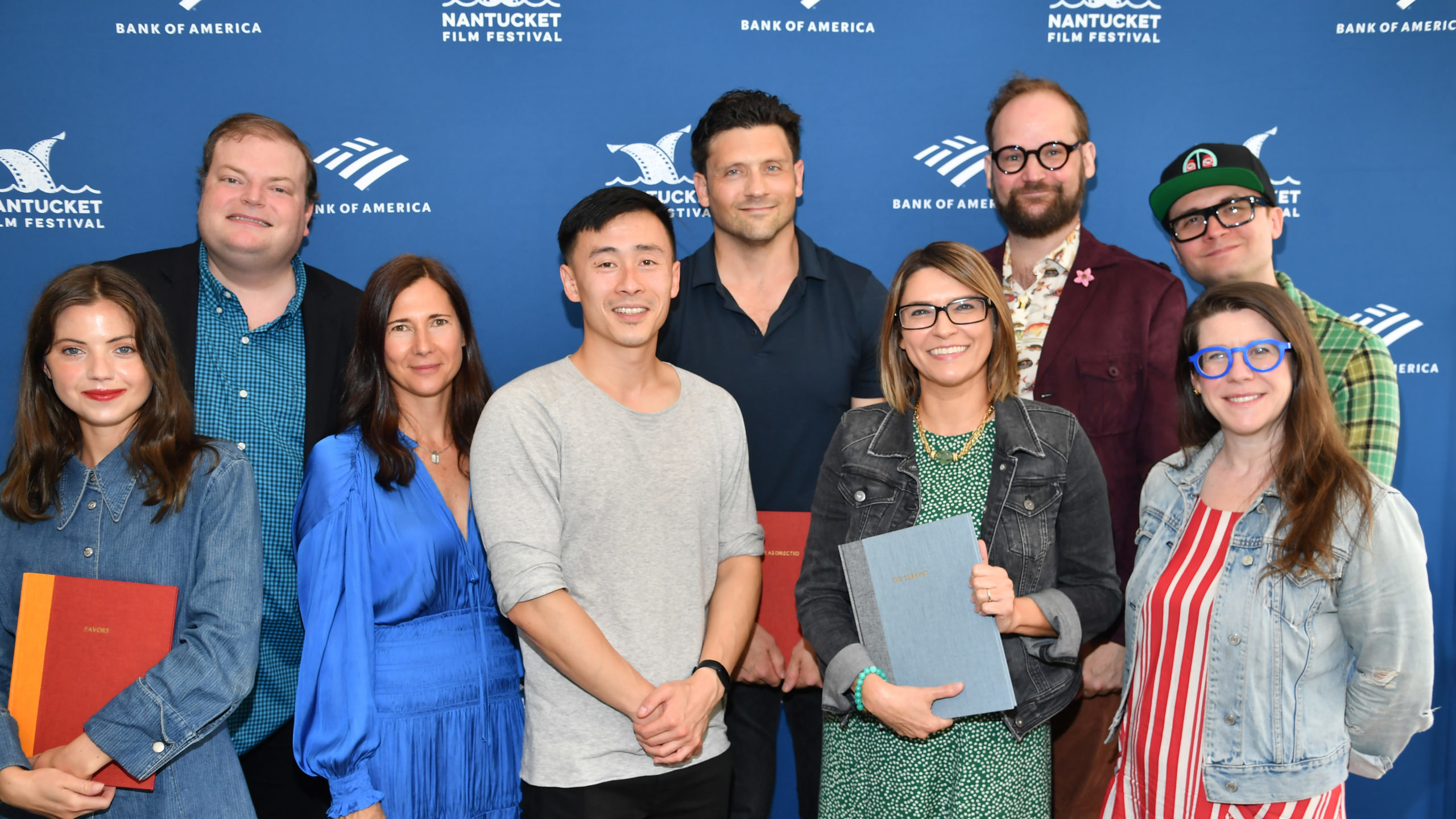 CONGRATULATIONS TO OUR 2023 TONY COX AWARD WINNERS!
FAVORS by Agnes Skonare Karlsson
A stressed traveler claims she's been asked to watch a stranger's baby in a packed train station. For fifteen, sweaty minutes, she's got one goal; to get rid of the baby.


SMOKE AS DIRECTED by Greg Scharpf
Based on the true story set in the 70's of neurotic DC speechwriter Robert Randall, who accidentally discovers that marijuana reverses the blinding effects of his glaucoma. Alongside many interesting characters, Robert fights the DEA and FDA to become America's first medical marijuana patient and to enact the first statewide marijuana law, igniting a controversial national debate.
WICKED BAYOU by Morgan Milender
When their viral TikTok accidentally outs their Dad as a former Boston mobster, sisters June and Maris find themselves banished to an off-the-grid swamp community with their parents, as members of the Witness Protection Program.
THE CURRENT by Jenny Goddard-Garcia
Taught to fear those outside their secluded community, steadfast sisters Meri and Spring have avoided the brainwashing signal, the Current, overtaking all of humanity. After their mother's death, they align with a scrappy resistance group, the Switches, to locate an insidious inventor, their father, who holds the key to protecting their home and stopping the Current forever.
PAST FEATURE SCREENPLAY WINNERS
2022: THE RIFT – MICHAEL LEI
2021: THE 84 – SONJA PERRYMAN
2020: MINOR MODIFICATIONS – SHIA LABEOUF
2019: SUNDOGS – ELIZABETH CHATELAIN
2018: CAMBRIDGE – HENRY HAYES AND ZOLAN KANNO-YOUNGS
2017: JOHNNY ACE – MOON MOLSON
2016: TEL AVIV ON FIRE – SAMEH ZOABI
2015: COUNTERINTELLIGENCE – KRISTEN DAVILA
2014: EARLY PLUS INFINITY – CLARK CARROLL
2013: CAKE – PATRICK TOBIN
2012: JEAN OF THE JONESES – STELLA MEGHIE
2011: THE MURPHYS – KAITLIN MCLAUGHLIN
2010: ETOPIA – TOMMY BUTLER
2009: FUTURE WEATHER – JENNY DELLER
2008: ANNA DOWN EAST – FRED M. STRYPE
2007: PECK – MARC ARNESON
2006: COLD SOULS – SOPHIE BARTHES
2005: MINK – WILL LUERS
2004: THE LAST SEDER – JENNIFER MAISEL
2003: BURIED ABOVE GROUND – CHASE PALMER
2002: DOWN TO THE BONE – DEBRA GRANIK
PAST EPISODIC SCREENPLAY (60 MIN) WINNERS

2022: MURDER IN MARSH – ELISABETH HAYWARD
2021: SECOND CROSSING – JAMES HOWELLS
2020: BEING SEEN – ANDI DELOTT
2019: LIVING – KATE LEVITT
2018: LEGACY – KELLEN HERTZ
2017: THE LINE – TESIA WALKER
2016: CLEO – JULIA FONTANA
2015: I.C.E. – ESTELLA GABRIEL
2014: TOMORROWLAND – JAMIE MAYER
2013: THE MESSIAH PROJECT – DAVID BAUGNON
PAST EPISODIC SCREENPLAY (30 MIN) WINNERS

2022: IMPERFECT – DAVID CRANE & NICOLE EVANS
2021: HEAD FIRST – JADE EDWARDS
2020: DRYWALL – ROB ECKARD
2019: FUNDERLAND – SASHA PERL-RAVER
2018: ALL WE DO IS NGUYEN – HUONG NGUYEN
2017: CASEY CAN'T – KAITLIN FONTANA
2016: THE GODMOTHER – WYNDHAM LEWIS
2015: SOLD – JONATHAN SCHWARTZ
2014: STIFFS – STUART FELDMAN
2013: TIME OUT – IAN MCWETHY

PAST SHORT SCREENPLAY WINNERS

2022: PANCAKE SKANK – SAV RODGERS
2021: THE LITTLE MONSTER OF RAVENSWOOD MANOR – KATHERINE SAINTE MARIE
2020: MARTHA – SARAH SMITH
2019: I KNOW YOUR NUMBER BY HEART – ALEXIS BARZIN
2018: CINDERELLA WAR – MARGARET KANE-ROWE
2017: THE YAO OF TAO – JESSE WANG, ROBERT BERG, & RAJIV SHAH
2016: WAYLAID – MICHAEL KOEHLER
2015: MORE COW BELL – ANDY NELLIS
2014: OPEN ROADS – MIMI JEFFRIES
2013: THE BRAVEST, THE BOLDEST – MOON MOLSON & ERIC FALLEN